Last Updated on November 12, 2022 by Guillermina
Light-emitting diode (LED) lights are very common in freshwater aquariums. There are so many options to choose from, which can be overwhelming, especially for the novice aquarist. In this article, we will give you a list of the best LED lights for planted tank
The Importance Of Lighting In An Aquarium
Lighting in any aquarium is crucial. It is however often overlooked and its importance is underestimated. This can be catastrophic for the plant life inside your aquarium.
Light provides life in the form of energy and oxygen for your plants and other photosynthetic organisms present in the aquarium. It is also important for your fish, corals as well as the bacteria.
Different plants and organisms require different amounts or intensities of light for survival and efficient growth. If adequate lighting is not provided, your fish and plants will not reach their peak potential in terms of health and growth.
Fortunately, there are many options for aquarium lights to choose from. The wide range of choices however can lead to a lot of confusion when it comes to choosing the right lights.
Are LED Lights Good For Planted Aquariums?
LED lighting has many benefits for your planted aquariums. Some of the advantages of these lights are; numerous options to choose from, and that LED lights produce no heat so they are highly unlikely to interfere with the temperature of your aquarium tank. They also come in many colors, giving you the option of selecting the right spectrum appropriate for your plants.
Now let us discuss the top 5 best LED lights for planted aquariums.
Top 5 Best LED Lights For Planted Tank
This LED light tops our list because of the bright light that it emits, as well as its versatility. With this light, your fish will be happy and your plants will grow really well. It is best suited for plants that require low to medium levels of light.
The NICREW ClassicLED Plus LED aquarium light has an aluminum alloy shell that increases its durability and does a great job of dissipating heat. This will ensure that your aquarium does not get unnecessarily overheated.
The light has a range of lights that are spread over five colors, hence the versatility that has already been mentioned. It comes with adjustable mounting brackets and can be used for both freshwater and saltwater tanks.
2. Current Serene Sun Pro LED
A close second on our list of the best LED lights for a planted tank is the Current Serene Sun Pro LED. This light is a high output LED from Current.
It delivers an eye popping colour performance that is uniform over the entire aquarium landscape, due to its smart high output LED technology that has over a million shades of HDR.
The 90 degree spherical lenses of this might produce high a parabolic aluminized reflector (PAR) which is excellent for promoting strong plant growth and enhances the natural color of the fish and plants in your aquarium.
When it comes to features, this light comes with taller than average docking legs that make adjustments fast and simple for a wide range of installations. It has auto control which saves you time, a long life, and a color spectrum and intensity that can be set for daylight and night time.
At number three, is the Mingdak LED Aquarium Light.  This light offers neat and pure white LEDs that will bring a shimmer effect to your aquarium. It is a fully submersible light and comes with suction cups that allow you to adjust and place the light at the position you like in the aquarium.
This is a safe light due to its low voltage. It will also help you save on electricity bills. It can also be used as a night light, which makes it great for viewing.
4. Current USA Satellite Freshwater LED Plus Light
With this light, you can dim it and create cloud cover effects. The light is also bright enough to stimulate the growth of your plants and enhance the vibrancy of the life in your freshwater aquarium.
The Current USA Satellite Freshwater LED Plus light comes with sliding docking legs, which make for easy installation. It also enables you to easily add multiple fixtures to it.
5. Aqua Worx LED
Last but not least on our list of the top 5 best LED lights for a planted aquarium is the Aqua Worx LED. This light is fantastic for aquarium pants and has impressive PAR values. It offers an optimum light output that enhances the beautiful coloration of the fish and aquatic plants in your aquarium, and the white lights will make your aquascape pop.
The light features adjustable acrylic legs that can be used to securely mount the light exactly where you want it in your planted aquarium. It is however recommended that you use a dimmer with this light, to prevent the growth of algae.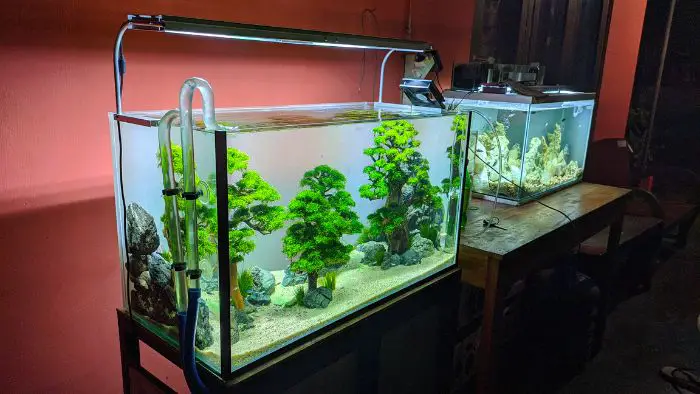 Important Considerations For Choosing LED Lights
Different modes – some LED lights may have day or night mode, or both, so decide on the one that will best suit your needs.
Type and size of the aquarium – because the lights come in different sizes, it is important that you get one that will not take up too much space in your tank.
Water resistance – if you want to submerge your LED light in the tank or aquarium, make sure you get one that is water resistant.
Aquarium Lights For Planted Tanks
Most plants and fish in aquaria do well with fluorescent and incandescent lights, these are other options besides LEDs. They may also be cheaper.
For deeper aquariums, you may want to get compact lighting because this type penetrates deeper into the water
-Metal halide aquarium lights are another option. These however have the disadvantage of heating up the water so you will need to carefully monitor them.
LED Lighting For Planted Freshwater Aquariums
There are many brands of LED lighting for planted freshwater aquariums, and these are recommended over other types of lights.
You can read more about these lights at: https://www.aquariumcoop.com/blogs/aquarium/how-to-pick-the-best-planted-aquarium-light
Aquarium LED Grow Lights
You can use any type and brand of LED grow lights for your aquarium, just make sure they have the right light intensity.
Conclusion – The Best LED Lights For Planted Tank
We hope you find our list of the best LED lights for planted tanks helpful. All the LED lights listed here are sure to provide you with the best, user friendly, durables, simple to use and will add amazing appeal to your aquarium.
If you enjoyed reading this article and found it useful, please share it with your family and friends.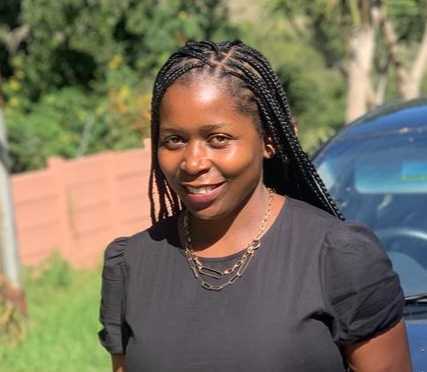 An aquaculture specialist and freelance writer. Passionate about anything sustainable living, such as growing your own food, and if you can do it in conjunction with fish farming, even better! I currently work as an aquaculture researcher where I can expand and share my knowledge and skills on aquaculture, crop farming and adding value to wastewater by using it to grow food products. I enjoy reading and learning as much as possible, and writing is another avenue for me to share the knowledge I gain with others. I want my writing to inspire people to try their hand at gardening, whether indoors or outdoors. You can even start by keeping a few houseplants indoors to help you gain a bit of confidence if you need to.